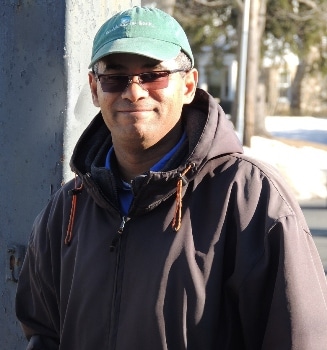 We are so lucky to have Wellington with us. We appreciate his dedication and loyalty to Pamby, especially during the cold weather months!
Family, tradition and values are what define Pamby, and we like to think of our employees as part of our extended family. To show our appreciation for the people who work by our side daily, we run a blog series called "Employee Spotlight."

Today, we shine the spotlight on someone most Ridgefielders already know: Wellington.

Wellington is one of our gas station attendants at 36 Danbury Rd in Ridgefield, CT - right next to Peachwave. He's easily recognizable for his quick smile and positive attitude.

Wellington's smile is contagious. Actually that's his plan - to get more people smiling. "I have troubles just like everyone else, but a smile is like a language," he says.  Born in Brazil, Wellington learned to have a positive outlook on life from his uncle. "I didn't have English before, but I could smile when I first came here," he relates. "It's an open door."

Wellington has worked with us for 17 years. He says one of his favorite parts of the job is seeing kids grow up. He recalls meeting Service Manager Tim Pambianchi when he was 17 years old. Other regular gas customers he remembers seeing in car seats in the back of their parents cars. Now he sees them driving their own cars!

He's been married to his wife for 27 years and has two grown children. When he's not working at the gas station, he spends his free time helping his wife with her work cleaning houses, and as an active member of his church, he volunteers on Sundays to direct traffic into the parking lot.

One unique fact about Wellington is he's been known to whistle the happy birthday tune on people's birthdays. If you pull up to the Pamby gas station on your birthday and let him know, you just might get a birthday treat.


---